BRONZEVILLE — Wendell Phillips Academy students will have access to on-campus health services year-round, thanks to Rush University Medical Center.
Students, administrators and medical staff were on hand for a ribbon cutting at the school, 244 E. Pershing Road, Thursday afternoon. The clinic, one of five schools the health care provider operates in partnership with Chicago Public Schools, will provide mental and physical health services to all of Phillip's 529 students.
"Today means Phillips has easy access to health care. Mercy Hospital was very important in this community, and when they announced they were closing our clinic and the hospital, the community was concerned. Having this health center here brings families closer to help," said Adrienne Morales, assistant manager at Phillip.
The school clinic was previously run by Mercy Hospital. Mercy's owner, Trinity Health, closed the facility before selling the hospital to Insight Chicago. Several former Mercy staff members will be part of the new team.
Rachel Ferry-Rooney, an adult nurse practitioner, has seen a steady increase in student numbers since the health center reopened.
"Students need a place where they, their parents or guardians, or anyone who needs to bring them for physical therapy or asthma treatment, will not be disturbed. They can literally come from upstairs in their English class, and we can connect with the parents if that's something the parents should know," Ferry-Rooney said.
Students will be able to come to the clinic for a variety of services, including immunizations, chronic disease management, acute care visits, sexual and reproductive health services, and therapy for them and their families. Telehealth and virtual visits will also be available to them.
All services provided will be free, funded by grants to the center.
Providing sexual and reproductive health services is important, especially with increasing cases of chlamydia and gonorrhea in Chicago, Ferry-Rooney added. Because Mercy was a Catholic hospital, clinic staff were limited in what they could tell students.
"Before, you had to educate them before giving them their double blow [of Depo-Provera.] Now we can just proudly give them the double whammy and tell them they're safe for three months.
For senior graduate Omolara Atoyebi, having access to an on-campus clinic has been a great relief for her and her classmates who often have to travel away from hospitals for appointments. It may also have inspired the future Cornell University freshman to pursue a career in medicine, after participating in Rush's Med-STEM program.
"Someone can raise their hand in class and ask the teacher for a pass if they are anxious. This is something that would not have happened before, but now they are able to control this situation better and seek help from somewhere they know," Atoyebi said.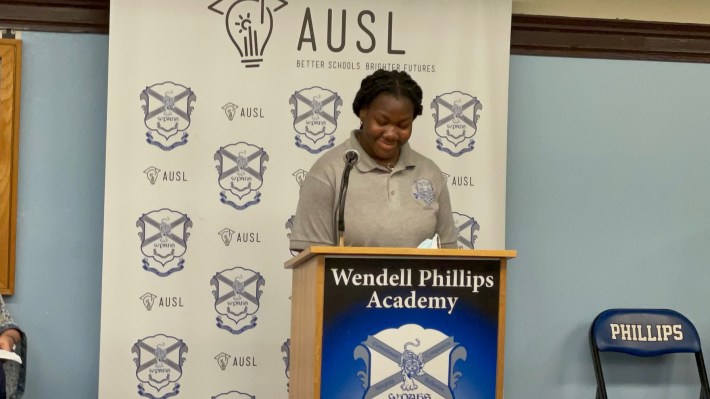 Listen to "It's Alright: A Block Club Chicago Podcast":